The traditional French preparation involves placing a sugar cube on top of a specially designed slotted spoon, and placing the spoon on a glass filled with a measure of absinthe. Iced water is poured or dripped over the sugar cube to mix the water into the absinthe. The final preparation contains 1 part absinthe and 3–5 parts water. As water dilutes the spirit, those components with poor water solubility (mainly those from anise, fennel, and star anise) come out of solution and cloud the drink. The resulting milky opalescence is called the louche. The release of these dissolved essences coincides with a perfuming of herbal aromas and flavours that "blossom" or "bloom," and brings out subtleties that are otherwise muted within the neat spirit. This reflects what is perhaps the oldest and purest method of preparation, and is often referred to as the French Method.
Bohemian method
The Bohemian Method is a recent invention that involves fire, and was not performed during absinthe's peak of popularity in the Belle Époque. Like the French method, a sugar cube is placed on a slotted spoon over a glass containing one shot of absinthe. The sugar is pre-soaked in alcohol (usually more absinthe), then set ablaze. The flaming sugar cube is then dropped into the glass, thus igniting the absinthe. Finally, a shot glass of water is added to douse the flames. This method tends to produce a stronger drink than the French method.
A variant of the Bohemian Method involves allowing the fire to extinguish on its own. This variant is sometimes referred to as "Cooking the Absinthe" or "The Flaming Green Fairy." The origin of this burning ritual may borrow from a coffee and brandy drink that was served at Café Brûlot, in which a sugar cube soaked in brandy was set aflame. Most experienced absintheurs do not recommend the Bohemian Method and consider it a modern gimmick, as it can destroy the absinthe flavour and present a fire hazard due to the unusually high alcohol content present in absinthe.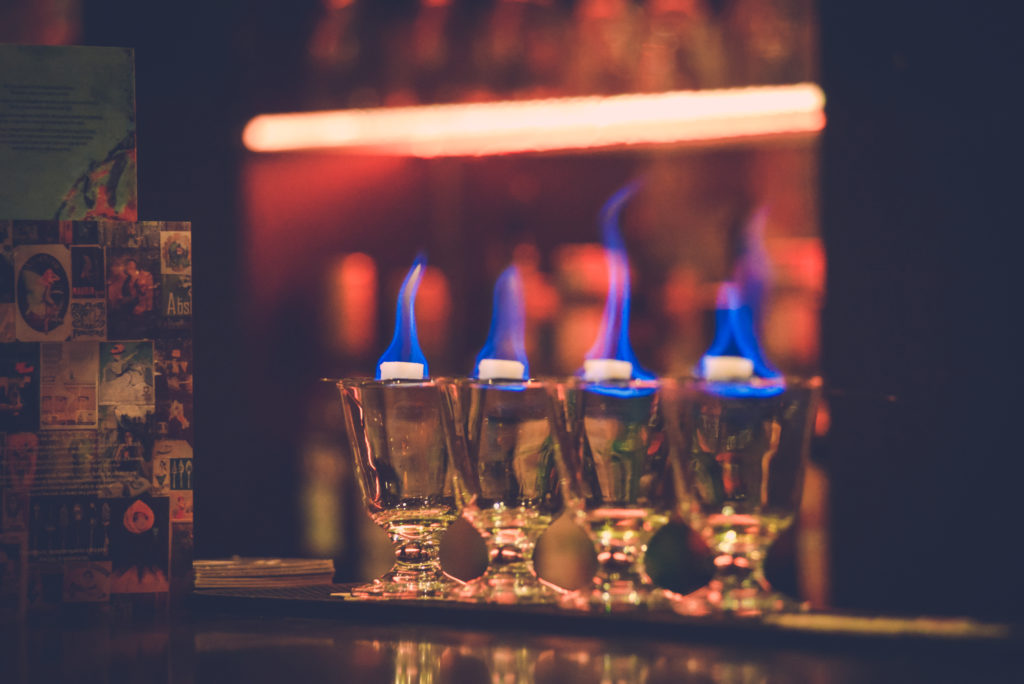 Glasses made for absinthe drinking
Although many bars served absinthe in standard glassware, a number of glasses were specifically designed for the French absinthe preparation ritual. Absinthe glasses were typically fashioned with a dose line, bulge, or bubble in the lower portion denoting how much absinthe should be poured. One "dose" of absinthe ranged anywhere around 2-2.5 fluid ounces (60–75 ml).
One of the most famous of these libations is Ernest Hemingway's "Death in the Afternoon" cocktail, a tongue-in-cheek concoction that contributed to a 1935 collection of celebrity recipes.